Grace Millane: 'grave fears' held for UK backpacker missing in New Zealand | World news
New Zealand police say they have "grave fears" for the missing 22-year-old British backpacker Grace Millane who disappeared from central Auckland on Saturday night.
Millane's father, David, arrived in Auckland on Thursday and issued a plea for people to come forward with any information they may have relating to his daughter's disappearance.
"Grace is a lovely, outgoing, fun-loving, family-oriented daughter," Millane said in his statement to the media.
"Grace has never been out of contact for this amount of time, she is usually in daily contact … we are all extremely upset. It is a very difficult at this time to fully describe the range of emotions we are going through."
Police said the missing person investigation was "progressing rapidly" and 20 police officers working overtime had tracked Millane entering the City Life Hotel on Queen street in central Auckland at 9.41pm on 1 December with a male companion. It is the last confirmed sighting of her.
Police had identified and questioned the man entering the hotel with Millane, and he remained "a person of interest" but had not been taken into custody.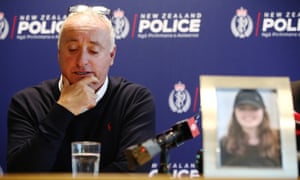 A team of forensic investigators were examining the hotel room, and police officers were continuing to review CCTV footage of inner-city Auckland and the hotel.
Det Insp Scott Beard of the Auckland city police appealed for anyone who had been in or near the City Life Hotel at the time of Millane's disappearance to contact police.
"It has now been six days since Grace was last seen, and at this point we hold grave fears for her safety," Beard said.
"At present we have spoken to a person and we still have no evidence of foul play … Grace is still missing".
Police said they were waiting for British banks to respond to requests for information regarding any activity on Grace's bank cards and accounts.
Millane arrived in New Zealand on 20 November as part of a year-long trip. She was travelling alone and staying in backpackers' accomodation in central Auckland.


Read from the Source link
(Visited 3 times, 1 visits today)
About The Author
You might be interested in