'Brazil is a green powerhouse' claims Bolsonaro at climate change summit – live | Environment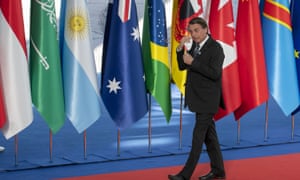 The Guardian's environment editor, Damian Carrington, reports that while Brazil's Jair Bolsonaro is not at Cop26, he has made a speech today that is extraordinary given the Amazon rainforest destruction that his presidency has resulted in.
"Brazil is a green powerhouse. When it comes to fighting climate change, we have always been part of the solution, not the problem," said Bolsonaro. "We will favour actions and projects for forest conservation, rational use of natural resources, mitigation of greenhouse gases emissions and, mostly, the creation of 'green jobs'.
"We will act responsibly, developing real solutions for an urgent transition," he said. "We are committed to providing better living conditions for all Brazilians, and thus contributing to a better quality of life in the whole world. Brazil is part of the solution to overcome this global challenge. The results already achieved by our country until 2020 demonstrate that we can further raise our ambition."
Brazil also increased its pledge to cut emissions today, from 43% to 50% by 2030, although the baseline year is unclear.
However, Amazon forest defenders today urged delegates at Cop26 not to trust the "greenwashing" promises of Bolsonaro's government. They said the world should pay more attention to Brazil's destructive policies of the recent past than to vague promises about the future, which they say are aimed at securing cash from rich nations.
Carlos Rittl, at the Rainforest Foundation Norway, said: "The world needs to hold Brazil accountable to the truth. The satellites don't lie." Bolsonaro's green turn is ascribed to Donald Trump no longer being US president: while Trump was in office, Bolsonaro was emboldened to denigrate international cooperation on the world stage, but no longer.
Nonetheless, Bolsonaro's supporters in Congress are still trying to change the law to allow more legal forest clearance and invasions of indigenous land.


Read from the Source link
(Visited 11 times, 1 visits today)
About The Author
You might be interested in