Capitol attack was 'domestic terrorism', says FBI director – live updates | US news
As the Supreme Court considers a voting rights case involving Arizona, here's more on that story, as concerns about voter suppression are sweeping the United States.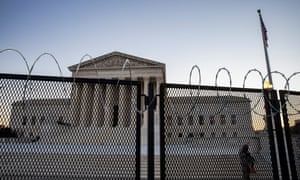 Justice Samuel Alito, a leader of the court's more conservative wing, expressed concern that states could be subject to a wave of attacks under section 2 if a policy resulted in even a small burden against a minority group.
"What concerns me is that your position is going to make every voting rule subject to attack under Section 2," Alito told Bruce Spiva, a lawyer for the DNC, which is challenging the restrictions. Chief Justice John Roberts, a key vote in the case, also noted that states had an interest in restricting ballot collection to prevent fraud.
Jessica Ring Amunson, a lawyer representing Arizona secretary of state Katie Hobbs, a Democrat who agreed with the 9th circuit ruling, noted repeatedly that bringing a section 2 challenge requires showing more than just a statistical disparity.
"Statistical disparities alone are not enough to make out a section 2 violation," she said. "You would have to show it is in fact imposing a discriminatory burden on minority voters that it is not imposing on [non-minority voters]."
The case arrived at the court as concerns about voter suppression are sweeping the United States. There are more than 253 bills to restrict voting in 43 states, according to a Brennan Center tally.
And one exchange during the case noted how politicized the fight over voting has become in the United States. When Justice Amy Coney Barrett pressed Carvin on what interest the RNC had in preserving Arizona's restrictions, he noted that his party would be harmed if those policies would be lifted.
"It puts us at a competitive disadvantage relative to Democrats. Politics is a zero sum game. Every extra vote that they get through unlawful interpretations of Section 2 hurts us. It's the difference between winning an election 51-49 and losing an election."
Notably, however, the court's conservative justices didn't seem particularly eager to embrace the most restrictive view of Section 2, put forth by Carvin and the Arizona GOP, that the law can't be used to challenge the "time, manner, or place" or elections.
In a series of hypotheticals, Justice Elena Kagan, pointed out how such an approach would allow states to enact discriminatory laws. When she asked Carvin if a state could require counties to only offer one polling place, leading Black voters in crowded urban areas to wait longer in line to vote, Carvin conceded that it would not be an equally open system.
He also conceded that a state could not only offer polling places in a country club if it meant Black voters had to travel longer into hostile territory.
The exchange prompted Justice Amy Coney Barrett to note that Carvin's position "had some contradictions in it," because polling place locations are regulations that involve the "time, manner, and place" of elections.


Read from the Source link
(Visited 4 times, 1 visits today)
About The Author
You might be interested in