Cop26 live: imminent climate disaster means 'you might as well bomb us', president of Palau tells leaders | Environment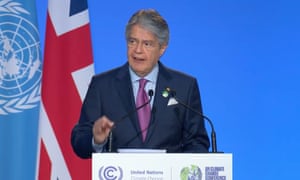 Ecuador has announced it will expand the protected marine reserve surrounding the Galápagos Islands, "the jewel of our biodiversity and a genuine living laboratory."
In a move long sought by local campaigners, Guillermo Lasso Mendoza, Ecuador's president, said the country would add an additional 60,000 sq km of protected ocean to the 130,000 sq km that already exist around the islands.
He noted that the Galápagos, famed for its crucial role in helping Charles Darwin develop the theory of natural selection, "is confronting serious threats due to global warming, plastic waste and other imbalances which are undermining our biodiversity, our food security and our economic and social development".
He added that the agreement was made via a "consensus between all of the involved sectors – fishing, tourism, conservation, and others".
The Guardian has reported extensively on how "distant fleet" fishing vessels, predominantly from China, have been decimating crucial fish stocks, including squid, on the very edge of the current Galápagos marine reserve.
The new expansion "will not only strengthen the protection of the area's biodiversity, but it will also bolster our combat against climate change", Lasso said. The move should help fulfill Ecuador's part of the UK-led 30 by 30 agreement, which commits to protecting at least 30% of the world's oceans by 2030.
In one note that may worry campaigners, Lasso also noted that the agreement would help achieve "growth in productivity for artisanal and industrial fishing".
The presidents of four Latin American countries, including Ecuador, are today expected to announce the merging of their marine protected areas into a "mega-MPA".


Read from the Source link
(Visited 4 times, 1 visits today)
About The Author
You might be interested in