Coronavirus live news: Covid-19 'taking different path in Africa', says WHO | World news
The deputy health minister in Afghanistan survived an assassination attempt on Saturday, as the war-torn country recorded its worst day of the crisis while war rages on with full intensity across the country, Akhtar Mohammad Makoii reports for the Guardian from Herat.
Wahid Majroh escaped unharmed when armed men opened fire on his vehicle as he was on the way back to Kabul early on Saturday. He has been spending most of his time visiting medical centres and briefing the media on coronavirus since the crisis began.
"This morning, I went to Khost, Paktia and then Logar provinces, on the way back, around 500 meters away from provincial capital of Logar, unknown armed men tried to stop our vehicle and when we didn't, they opened fire" Majroh said in a press conference in Kabul.
He went to the remote provinces to "get assured that everyone gets medical treatment" in the ministry facilities, he said. "I'm a doctor, I don't have any military and political goals, I don't travel with security [guards], I don't know who they were."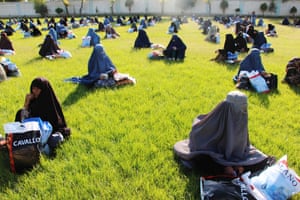 The attack on Majroh came as Afghanistan suffered another escalation in its coronavirus crisis, with 782 new cases and 11 deaths confirmed in last 24 hours. More than half of tests done in a 24-hour period come back positive across the country, taking total number of confirmed infections to 9,998 and death toll to 216. There have been 1,040 recoveries.
Capital Kabul recorded 377 new cases, the biggest one-day rise of transmission in Afghanistan's worst affected area. The total number of confirmed infections in Kabul stands at 3,460 with 29 deaths.
The western province of Herat also recorded its worst day after eight patients died of Covid-19 overnight and 150 new infections were detected. Herat borders Iran and recorded first case of the virus in Afghanistan after thousands of Afghan migrants poured back from Iran in February and March, fanning out across the country without being tested or quarantined. Total number of infections in Herat is 1,611 with 34 deaths.
Majroh warned the nation that the "catastrophe" of coronavirus is spreading across the country and said the nation has only two options on the eve Eid which is scheduled for Sunday, "you either stay at home and safe or go out to visit your relatives and friends which cause everyone in your family infected".
He said the ministry is concerned about breaking lockdown rules, "when people were heeding, daily number of infections was just about 250 or so a day but now as the people continue to break the rules and we test more, the number is rising".
Majroh said the ministry is preparing more hospital beds for Covid-19 patients. Early in the week he said the country has run out of hospital beds for Covid-19 patients in most parts of the country.
Meanwhile, war rages on across the country and according to the Office of National Security Council, 576 civilians were killed and wounded in Taliban attacks in the month of Ramadan. Javid Faisal, the spokesman for the office said 146 people including women and children were killed and 340 wounded.
"Taliban showed zero respect for civilians and the agreement to reduce violence, and continued their deadly campaign against the Afghan people in the last week of the holy month of Ramadan. They killed 25 civilians, including women and children, and wounded 89 across 20 provinces" Faisal said.


Read from the Source link
(Visited 3 times, 1 visits today)
About The Author
You might be interested in