Coronavirus live news: India reports over 200,000 cases for seventh straight day; Japan mulls new restrictions | World news
Coronavirus sceptics will often attempt to cite a low overall mortality rate for those who get Covid-19 as a reason to argue that attempts to mitigate the pandemic have been overblown. This often fails to take into account the devastating long-term effects a bout of the illness can have.
Agence France-Presse have this despatch from Madrid, where reporters have visited patients at a new rehabilitation centre. Built in three months at a cost of over 150 million euros (£130m), the Isabel Zendal hospital opened its doors in December to treat Covid patients although its rehabilitation centre was only inaugurated this month.
"I can't walk on my own," Carolina Gallardo, 51, told reporters. "I can't use my hands – look at my hair, I can't even put it up on my own."
Pulling herself up from her chair, she clings on tightly to the parallel bars, slowly moving her foot in what is obviously a huge effort. With an arm around her waist, a physiotherapist gently urges her on, encouraging her to put her weight first on one foot then on the other.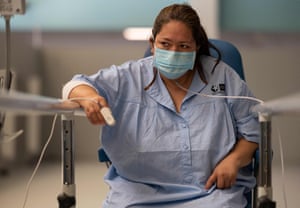 At the centre, experts help recovering Covid-19 patients who struggle with continued respiratory problems or have lost their "motor capacity, to the point that holding a spoon or opening a bottle" is impossible, explains Dr Jose Lopez Araujo.
Patients walk around with electrodes attached to their bodies, or with a pulse oximeter on their finger, a device that monitors the pulse rate and oxygen levels in the blood.
"I'm a miraculous survivor. I shouldn't have made it," Gallardo says breathily, a transparent tube connecting her nose to an oxygen tank. She has only recently recovered her ability to talk.
"I couldn't close my mouth, a physiotherapist has been working with me on stretches so I can close my mouth. I could hardly speak, I couldn't even hear my own voice but then I started hearing it and now I'm talking," she explains softly. "It's a devastating disease."
Jesus Nogales, 68, spent about a month in intensive care. "I was unconscious, sedated, I had no idea what was going on. For me it was like the world didn't exist," he told AFP.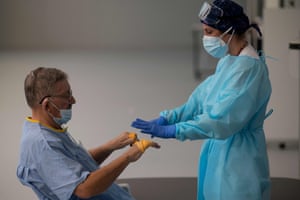 "When I left the intensive care, it was like my whole body had turned to jelly. I had absolutely no strength. I had to relearn how to walk, to eat, and to move," he says.
Like many Covid patients, Nogales lost his sense of smell when he first caught the virus and says he could have easily picked up "a glass of bleach" without realising it wasn't water.
He is now working with physiotherapists at the centre to get his lung capacity back to normal. "I don't want to end up in a wheelchair," he says.


Read from the Source link
(Visited 2 times, 1 visits today)
About The Author
You might be interested in