Coronavirus news live: South Africa reverses decision to open schools; sharp rise in Iran's infection rate | World news
Many South Africans spent their Monday morning lining up outside liquor stores, as alcohol sales were allowed again after a two-month ban because of the coronavirus outbreak.
But while South Africa with the continent's most developed economy and the highest number of confirmed cases of Covid-19 relaxed its strict lockdown, the reopening of most school classes was delayed and there was debate about how churches could safely resume services, the Associated Press reports.
The government postponed the planned opening of two grades for another week so that some under-prepared schools could get ready to resume classes for grades 7 and 12, the final years of elementary school and high school.
Places of worship were allowed to open from Monday with limits on the number of people in congregations, yet many religious groups said they would refuse the opportunity as they were concerned about the danger of allowing people to gather in an enclosed building.
South Africa has reported over 32,000 Covid-19 cases and more than 600 people have died, with warnings the peak is not expected until August or September.
The relaxation of the alcohol ban came as a relief to many, who chose restocking their liquor cabinets instead of going straight to work on the day much of the country's economy also reopened.
In the township of Macassar, near Cape Town, people left home at 4.30am, residents said, to secure places in lines at liquor stores. The stores were set to open at 9am for the first time since 26 March.
Some walked with plastic crates to carry the bottles of beer and wine that they planned to buy, according to the report.
Cheers rose in a Johannesburg supermarket when screens were removed from wine racks to allow sales to begin.
Shelves of popular brands of alcohol were emptied in two hours at one liquor shop in an affluent suburb of Johannesburg.
Alcohol is only allowed to be sold from Monday to Thursday between 9am and 5pm, under the new relaxed measures.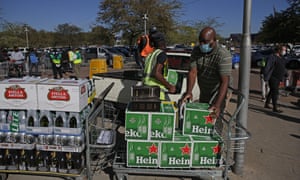 Read from the Source link
(Visited 5 times, 1 visits today)
About The Author
You might be interested in