Five injured, one critically, after car mounts pavement in north London | London
A car has ploughed into pedestrians on a pavement in Stamford Hill, north London, injuring five people, one critically.
Police do not believe the driver in the incident, which happened just after 9.30am on Friday, was acting deliberately.
The area is home to a large Jewish community but the Metropolitan police said the incident was not believed to be terrorist-related or a hate crime. One local person at the scene said the driver worked nearby.
A witness said the driver claimed that his brakes had failed. His car veered across the road and on to the pavement, eventually crashing into a tree.
A witness told PA Media that the driver of the silver Toyota was in "shock" after the crash, which left the car with a crumpled bonnet and smashed windscreen and damaged a bus stop.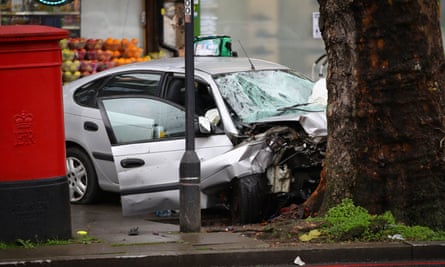 The witness said: "I heard a bang, that was when the car hit the bus stop. The car was on the kerb and I saw two people flying in mid-air. After that he hit a Mitsubishi parked over there and his car did a 90-degree rotation. Another guy on crutches got hit.
"A few elderly Jewish gentlemen helped [the driver] out the car, people in the shop came out to help.
"I called police and they were here in two or three minutes. I saw five people getting treated including the driver. He was an older-looking man in shock."
A London Ambulance Service spokesperson said six ambulance crews, a hazardous area response teams and a specialist trauma team rushed to the scene to treat the injured. "Five adults were treated at the scene. We took four to a major trauma centre, and one person was taken to hospital by a Hatzola [Jewish community-run] ambulance crew."
Inquiries by the Met are continuing.


Read from the Source link
(Visited 5 times, 1 visits today)
About The Author
You might be interested in