German election: Social democrats beat Angela Merkel's party, according to preliminary results | World News
Preliminary results in the German election show the centre-left social democrats have beaten outgoing chancellor Angela Merkel's centre-right bloc.
SPD won 25.8% to the CDU/CSU's 24.1%, according to figures from German broadcaster ARD and Reuters.
The greens were next with 14.6%, followed by the FDP on 11.5%.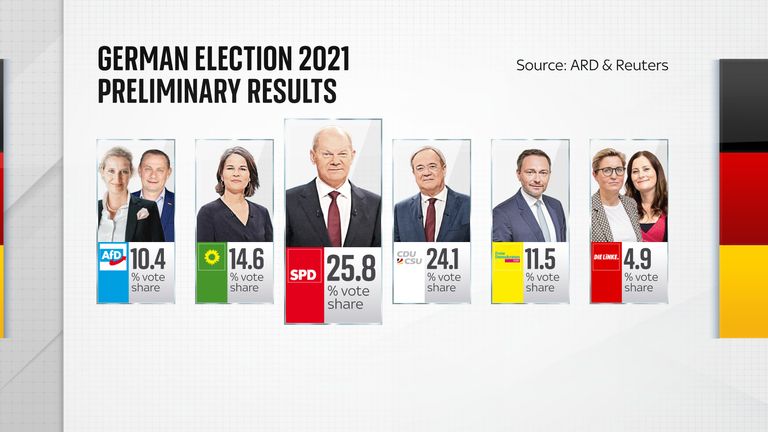 The two parties have signalled they are willing to discuss a three-way alliance with either of their bigger rivals to form a majority 50% government.
Right-wing populist party AfD came fifth with 10.4%.
Hoping to become the next chancellor is CDU/CSU bloc's Armin Laschet and the frontrunner, outgoing finance minister Olaf Scholz for the Social Democrats.
The greens, with candidate Annalena Baerbock, are also making their first run for the chancellery.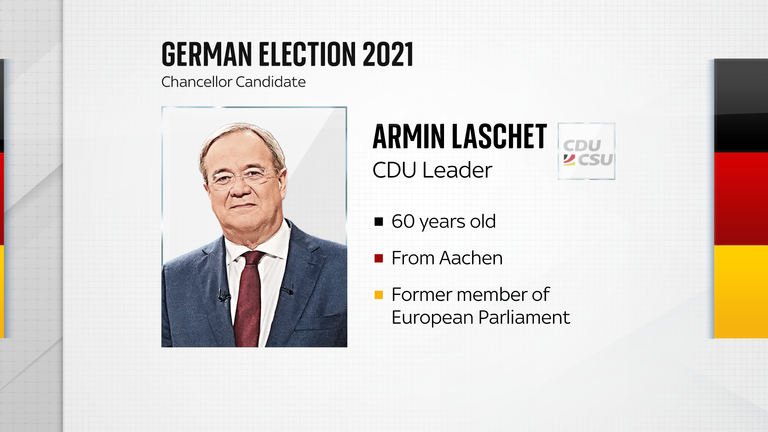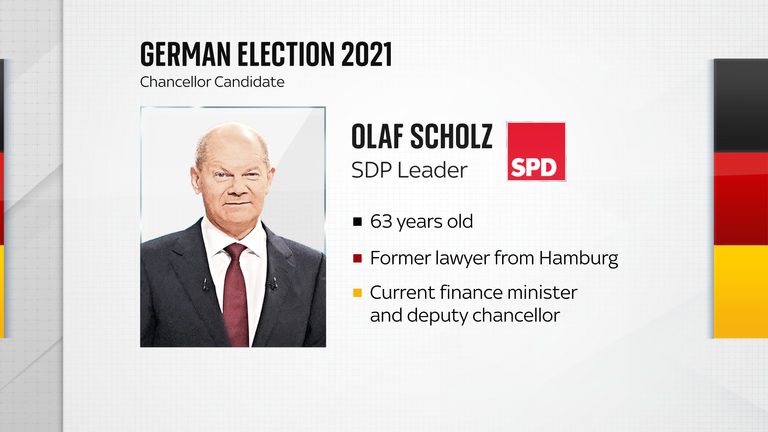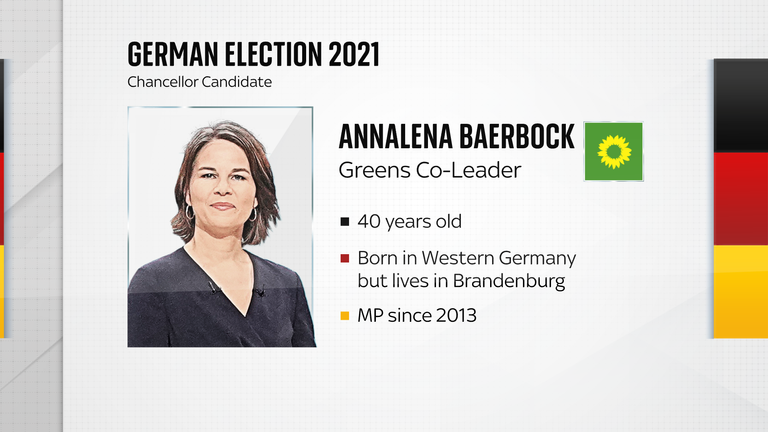 No winning party in a German national election had previously taken less than 31% of the vote.
Germany could now face months of talks over a coalition, meaning Mrs Merkel stays on in a caretaker role.
Despite getting its worst-ever result in a federal contest, the CDU/CSU bloc said it would reach out to smaller parties to discuss forming a government.
Mr Laschet, governor of North Rhine-Westphalia state, said his party's loss of votes "isn't pretty" and conceded that the country would now probably end up with a three-way coalition.
Mr Sholz, outgoing vice chancellor and finance minister, said the result was "a very clear mandate to ensure now that we put together a good, pragmatic government for Germany".
Both men will now be courting the greens and pro-business Free Democrats (FDP) in the hopes of forming a union.
Speaking earlier after exit polls, CDU general secretary Paul Ziemiak acknowledged "bitter losses" compared with the previous election where it gained 32.9% of the vote.
Voting closed at 5pm UK time in a bitterly fought election to replace the country's leader, who's been in power for 16 years.
About 60.4 million people were eligible to elect the new Bundestag – Germany's parliament – which will then choose the new chancellor.
Veteran leader Mrs Merkel has won praise for steering her country through several major crises, including the financial crash and the COVID pandemic.


Read from the Source link
(Visited 1 times, 1 visits today)
About The Author
You might be interested in